It is May, which means two things:
1. The NFL season is still months away, and speculating on it now is pointless and foolhardy.
2. This is America, and we don't care.
No, in this country it seems it's never too early to discuss the upcoming football season. We're all in on the sport – it's our Hunger Games. Football news, no matter how obscure, unseasonable, or off-topic, is always met with a satisfied nod. At least from anyone who loves America.
And one thing I know to be true is that you, dear readers, are patriots. So you understand that offseason football talk is completely rational. And today, I want to discuss something that should be in the forefront of fans' minds heading into the 2012 NFL season. This is crucial for football fandom – more important than rosters, depth charts, draft picks, or coaching schemes. It's something us rubes must embrace, for it has the power to keep fans of even the most soul crushing teams (see: Vikings, Bills, Browns) sane.
The decision every fan should make is: who will be my team's 2012 whipping boy?
The whipping boy is a key figure on any team, for it keeps fans from killing themselves. Trust me; it's the only thing that has kept the suicide toll among Vikings fans down for the last few decades. Basically, it works like this: you pick one player you don't really like, and then blame most (or, in some cases, all) of the team's collective failures on him. It's very easy.
My brother Brandon and I developed this system in Minnesota long ago. We're simple folks. And as Vikes fans, we found a basic need for it in order to suppress the almost inescapable depression caused by moments such as this, this (NO!!!), and, most recently…this. And those are just the high points. Having one finite place to direct your scorn – rather than trying to figure out who to blame (coach, quarterback, owner, father, roommate, fair-weather fan next door, etc.), helps keep things together and removes the need for auxiliary brain function that could be better utilized on beer, wings, the TV remote, and the like. And the great part is, there is no limit to what you came blame on the whipping boy. He doesn't even have to be part of the play, on the field, or even in the building – no matter what happens, it's his fault. For example, our most recent whipping boy on the Vikings was fat and stupid offensive tackle Bryant McKinnie. McKinnie was a decent player, but a tailor-made, hall of fame whipping boy (more on that later). Anyway, if the quarterback was sacked from his blind side, clearly it was his fault. But if a running play going to the right side – where McKinnie was not involved – and didn't do well, we could find a reason to blame him too. Often we'd even deem it his fault when the defense gave up big plays, the kicker missed a field goal, or someone brought the wrong kind of salami to the postgame meal. There's no logic for this, but there doesn't have to be – and that's the beauty of the system. It makes even the angriest, most illogical fan feel a little better because it plays right into those two basic superfan instincts – anger and the absence of logic. Just try it, you'll like it.
Now, picking the whipping boy is slightly more complicated, and that's why we're having this talk. It can't just be anyone; it has to be a guy fit for the role. Initially it's probably tempting to pick some poor scrub who barely made the roster, or the longsnapper, or punter, or someone else of that ilk. Those guys are eternally easy to pick on, so I understande that urge. But they don't work; you don't see them nearly as much as more prominent team members, and those guys are already low on the totem pole – in salary, fame, and respect – so piling on them just kind of makes you a dick. Instead, it should usually be a player with regular playing time and at least relatively decent talent, with some combination of the following:
– Poor Attitude. Guys with shitass attitudes are unlikable and generally cause trouble, so it's easy to find or create fault in what they do.
– Unfulfilled Potential. This is a big one. You're going to have a head start at being pissed off at these guys anyway, because the football-watching world has already decided their level of play isn't equal to their level of talent. Nobody likes an underachiever. So why fight it? Why not ride that wave and consider your team's disproportionately high draft pick for the position of whipping boy? They're very easy to yell at.
– Weight. Simple: the more body mass, the more places they seem to be. And the more places they seem to be, the better probability you'll see them around a play that didn't go your team's way. Plus there's the classic dilemma of NFL linemen: they only get noticed when they draw a penalty or miss a block. Proper line work usually goes unnoticed. Let's keep it that way.
– Undue Hype. This is similar to unfulfilled potential, but is more a product of the player being overrated by the rest of the football-watching world. You know, when you're watching a game and ask yourself "why does everybody think this guy is so good? He doesn't do shit." That's the undue hype guy.
For Vikings fans, Bryant McKinnie was a conglomeration of all of these factors, and thus made the perfect whipping boy. A top-10 draft choice that was expected to step in and dominate from day one, a contract dispute held him out well into his rookie season, and when he did finally show up he never quite got that "dominance" thing. Still a serviceable left tackle, but he always was more worried about his music career (why are all athletes under the illusion they are also rappers?) and partying than he was playing football. He even got kicked off a Pro Bowl team once, due to his South Beach clubbing schedule taking precedence over practice. It was impossible to like this guy.
But alas, when McKinnie returned to training camp extra fat and out of shape last year, the Vikings finally tired of his bullshit and cut his cruise ship-sized ass. While good for the team culture and accountability, it left a gaping hole at left tackle and, more importantly, the whipping boy position. We scrambled to find replacements for both – Charlie Johnson and left tackle and eventually a half-assed attempt at making Donovan McNabb the whipping boy for the season – but neither really satisfied. A washed-up, benched veteran quarterback doesn't make a great kick-horse, no matter how many passes we saw him skip at receivers' feet. It worked for a few games, but once he stopped seeing playing time, the thrill was gone. And thus, in the season we needed a good whipping boy most – the squad finished a dismal 3-13 – we were left with none. I will not let this happen again.
Just to give you an idea, let's look at some blame-dumps from the past.
Past Whipping Boys
Chris Hovan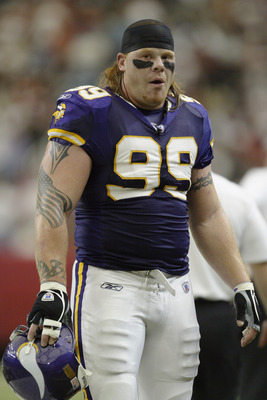 A white defensive tackle, Hovan was up against it from the start. He actually had a few years as an impact lineman in the early 2000's, but then his level of play began to seriously slide, though it was at least two years before anyone noticed. One of these years, the Vikes were on Monday Night Football one week and John Madden took a shine to Hovan for some reason. Being John Madden, he wouldn't shut up about him. This fueled the undue hype machine, and I specifically watched Hovan on every play the rest of that season and waited for him to do anything other than stand up after the ball was snapped, grab onto whatever offensive lineman was across from him, and just kind of stand there. He never did. Still, the John Maddens of the world continued to rave. Hovan currently plays for the Virginia Destroyers of the UFL. His tattoos include barbed wire and an American flag.
Lance Johnstone
A defensive end the Vikings acquired during that same time frame in order to upgrade their dismal pass rush. "We have Lance Johnstone," the team basically told us, "so our days of being ranked dead last in every defensive category are over." They weren't. Johnstone was a washed up version of a player that wasn't actually that good in the first place, and while he was just fine at rushing quarterbacks, he struggled mightily at actually getting to them. His three and four-sack seasons for some reason didn't end the team's defensive woes.


Bernard Berrian
The overpaid, moody, much maligned wide receiver, whose tenure as the whipping boy overlapped with McKinnie's. Boy, did we have plenty of places to push blame when those two guys were on the roster – really, they were the best one-two punch ever. The Batman and Robin of fan scorn. Again, this guy was brought in to rescue a failed position unit (the receiving corps), and paid much more than he was worth (something like $7 million a year). Berrian never even looked like a solid player, didn't catch many balls, and watched idly as a hall-of-fame quarterback (Brett Favre) came in and made someone else (Sindey Rice) a quasi-star. Every interaction with the media was a testy one, which didn't do much to make us like him. If you're going to be a shitty, overpaid player, at least be nice.
Those are just a few examples. But who for this year? Let's look at the field (with whipping boy factor, on a 10-point scale):
This Year's Candidates
Asher Allen, Cornerback
Going into his fourth season, the former third-round draft pick from Georgia has not developed much since his rookie year. In what figures to once again be a very thin unit, Allen will be forced into meaningful action in the secondary – something he's proven he can't really handle. In three years with the Vikings, Allen has four interceptions, 11 passes defended, and many, many instances of being five to eight yards away from his receiver when the ball is caught. No attitude or weight problems yet, but you never know. Whipping boy factor: 6.


Phil Loadholt, Offensive Tackle
The logical McKinnie replacement; a huge, massive, gigantic offensive lineman who underachieved last year. Loadholt has talent and solid football acumen, but too often in 2011 you would see him standing there looking down at the quarterback after he'd given up a sack, with this confused look on his face that just kind of said, "sorry?" Linemen are just so easy to blame. I personally don't want Loadholt to be the whipping boy at all – just look at that face. Look how happy he is. How could you be consistently mad at that guy, even if he's consistently screwing your team's chances to win? It's true – in every public setting, big Phil comes off as possibly the most positive, unassuming guy on the planet. He's easily the jolliest offensive lineman I've ever seen – it's almost as if he didn't really want to go into a profession that involves crushing other human beings, but he just kept growing. Loadholt is good fat, so let's not make him the whipping boy. Let's look past his flaw. Please? Whipping boy factor: 5.
Toby Gerhart, Running Back
His name is Toby! He went to Stanford! He was a Heisman finalist! Then why in his rookie season did Gerhart look like a man content with taking a handoff, making one slow horizontal move, then falling forward for two yards? This is the visual I have of his first season with the team. It's not completely fair, because as the year wore on he did improve as a runner, and actually filled in admirably for the injured Adrian Peterson. Still, I have big expectations, so I have Toby on a short leash. Peterson might not be ready for the start of the season, and even if he is, it won't be at full strength. We're going to need Gerhart to be solid, and if he isn't, I'm completely willing to turn on him early on. Whipping boy factor: 7.
Jerome Simpson, Wide Receiver
This could be the one. Simpson recently signed with the Vikings after serving 15 days in jail. He's being paid 2 million this year, and put up serviceable numbers with the Bengals last year (50 catches, 725 yards, 4 TDs). Looking at those factors alone, expectations would be reasonably low for Simpson with the Vikings. But NFL fans are not reasonable, and will have much higher hopes for Simpson – mainly due to the fact that they saw him on ESPN 2,000 times last year, after he made one of the iconic plays of the 2011 NFL season. That single play was shown over and over again, and due to ESPN's mammoth reach, the rubes probably think Simpson is better than he actually is. He inadvertently set the metaphorical bar very high for himself. And if things start to go sour – Simpson isn't catching many balls and starts to complain, as receivers are wont to do – it could get ugly. Also, I'm just assuming he has attitude problems, because he was in jail and he played for the Bengals. What other proof do you need? Whipping boy factor: 9.
These are the candidates. Vikings fans, we must pick one. Do you have someone else in mind? Who did I miss? And non-Vikings fans: who will YOUR team's whipping boy be?