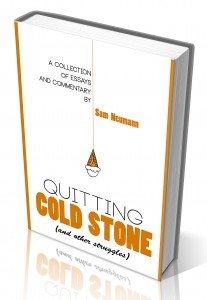 Hey guys! GUYS! I wanted to let you know that my second book, Quitting Cold Stone (And Other Struggles) is out as an eBook today. It's $2.99, just like the first one, so once again for less than the price of a Starbucks vanity beverage you can be laughing till the proverbial cows come home.
This one's a really light read. It's basically a collection of some of (what I thought were) my best blog posts from the past, revised and updated and packaged with a whole bunch of new content in the same format. For example, some chapters are:
– The Road to Branson
– The Wonders of Bob Ross
– Defending Nickelback
– Confessions of a Wi-Fi Thief
– To the Guy Who Leaves His Grocery Cart in the Middle of the Parking Lot
Anyway, I think you'll enjoy it. It's currently just available in Kindle format, but I'll be working on paperback and other formats and will of course annoy you with another blog post when those happen.
I leave you with this picture and quote from Sisqo. Not because he has anything to do with the book, but because sometimes we need a reminder of what we've been through as a nation.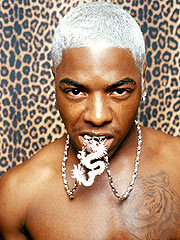 "Unleash the Dragon."
– Sisqo
Never Forget.