Heavyweights is the greatest film of all time. This is purely a statement of personal preference, but it is not an opinion; something that feels this undeniable can't be anything other than fact. When asked to list my favorite movies, I feel compelled to mention that Heavyweights is number one and everything else is residual. Simply put, the movie is a masterpiece, a piece of art so divine that it can only be the work of God himself. Walt Disney Pictures claims ownership, but this is a farce, for no one entity can truly own this film any more than one can own the sun, sky, or oceans. Heavyweights belongs to all of us.
The plot is simple – a bunch of overweight youngsters are shipped to a summer camp with the express purpose of getting their weight under control. The veteran campers are not worried in the beginning; they have developed a system of staying well fed, minimally active, and generally obese throughout the summer, which is why they return year after year. The camp owners – the Bushkins – do little to hold the kids' feet to the fire; they seem content to buy them go-karts, jet skis, and large inflatable water toys while watching them enjoy the hell out of the summer and neglect any form of weight loss. This all changes when the camp is bought by Tony Perkis (Ben Stiller, before he was Ben Stiller), an overbearing fitness freak determined to whip the little fatasses into shape. All hell breaks loose, the campers eventually mutiny, and general hilarity ensues. Also there's a hot nurse.
If you are an inferior cinema mind and haven't seen Heavyweights, you might ask why I hold this movie in such high regard. Well, it has everything:
Fat People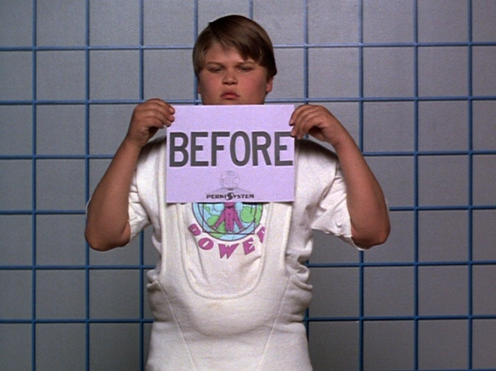 More specifically, fat children. It's a well-known fact fat people are funnier than the general population; they need to be to make up for their physical situation. It's natural selection, really. But fat children are funnier yet, with their underdeveloped social skills, irrationally optimistic views on life, and chubby cheeks. Naturally, Heavyweights is full of fat children – it is after all a movie about a fat camp – and it utilizes them to the max. Aside from the obvious curb appeal of lead man Gerald Garner (age 11, 141 lbs) and his phenomenal side-part, the movie also features a young Keenan Thompson as Roy and Shaun Weiss – best known for his work as Goldberg in Mighty Ducks – as Josh. A star-studded cast, all fat, young, lovable, and hilarious.
And let's not forget camp counselor Pat Finley, who is repeatedly berated by Tony Perkis throughout the film until the end when he overcomes and hooks up with Julie the hot nurse. I'm giving their relationship credit for setting off the rash of "fat guy with hot wife" sitcoms the past 10 years (King of Queens, According to Jim, Grounded for Life, even Family Guy).
A packing/unpacking montage – Always a good idea, executed to perfection here. When Gerry makes his first visit to the Chipmunk bunk – early on in the movie, while the going is still good at Camp Hope – Josh introduces him to the Chipmunk way of doing things. "Chiiiiiiiiiiiipmunks, download NOW!"
Tony Perkis – As mentioned before, played by Ben Stiller, in undoubtedly his greatest yet least celebrated major role ever. Tony is the classic villain, ruling Camp Hope with an iron fist and not allowing even a shred of positivity creep into the campers' lives. He even has his version of the SS – Team Perkis – to do his bidding and eradicate all candy and fatty food from the grounds. We come to find out that Tony's intention is to make and sell an infomercial out of the kids' weight loss that summer, and when things don't go according to plan, he begins to lose it.
A certain member of Team Perkis does play a crucial role in ensuring all the campers are using the buddy system during swim time, possibly their one redeeming quality. Which brings me to…
An obliviously funny foreigner
A David beats Goliath moment – I assume this cliché still works if David is actually bigger than Goliath, which is the case here. At the end of the summer, the kids are forced into a competition of skill known as the Apache Relay against neighboring Camp MVP, the jock camp. As one would assume, they get their large, round asses neatly kicked each year, but this summer is different. Through sheer willpower, an eclectic skill set, and the cunning orchestration of Pat Finley, Camp Hope finally wins the Apache Relay, and we are all along for the ride. The race culminates in Gerry actualizing his lifelong dream of driving a go-kart as he beats a skilled driver from Camp MVP by jumping clear over him. If you would like to raise the point that this might be a tad unrealistic given Gerry has never driven a go-kart in his life, you can go fuck off somewhere. Gerry had it in him, I'm sure of it.
Inexplicably the Apache Relay is not on YouTube, which is akin to not being able to find any clip from the Boise State/Oklahoma 2007 Fiesta Bowl. A damn shame. I would go through the process of putting this clip up myself, but nobody actually puts any videos on YouTube. We just wait for other people to do it.
Moral of the story? If you want to experience the finest in American cinema, watch Heavyweights. If you've already seen it, watch it again, for I assure you it gets better with each viewing. My brothers and I watched the VHS until the tape began to wear out, and then we watched it some more, filling in the quotes of any parts that might be damaged. We couldn't help but gravitate to its genius. My life will forever be changed by the day my father came home from the video store, set the movie down on the counter, and after examining the front cover, asked "hey, you guys want to watch a movie? Something about kids who make sandwiches?"
Yes we do, Jer. Yes we do.