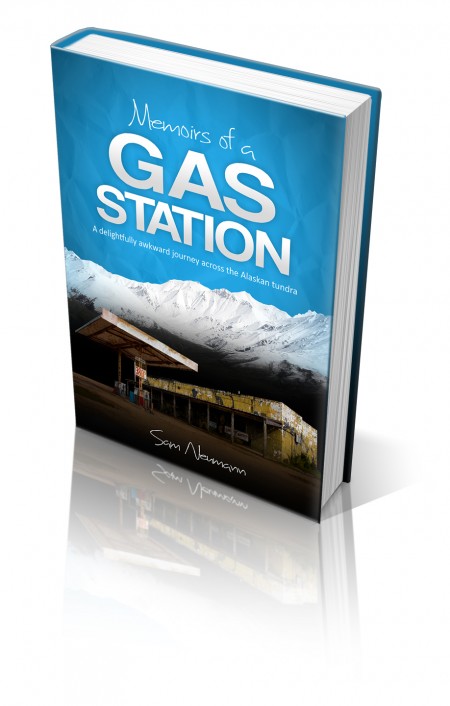 Early one May, I arrived in the breathtaking wilderness of Denali, Alaska with a smile on my face and adventure in my heart. But less than 24 hours later, both had evaporated as I stood behind the counter of a filthy gas station—my new place of employment—and tried to piece together what exactly had gone wrong.
Memoirs of a Gas Station is a personal account of my summer trapped in a convenience store on the edge of Denali National Park. It is a journey across the Alaskan tundra and headlong into the ridiculous world of seasonal employment. The summer began with shock, horror, and denim shirts as I struggled to accept my new role as a gas station employee. To escape it, I took to the forests of Denali at every free moment, soon finding myself in the precarious situations of being face-to-face with an angry adult moose, shivering numb trying to last the night on a frigid mountainside, and being seduced by a Mormon divorcee.
Often satirical, sometimes introspective, and always brutally honest, Memoirs of a Gas Station takes you on a raucous ride through the best and worst summer of my life. From booze-soaked employee parties to one very awkward romantic episode in a tree house, I learned more than I ever planned about the Last Frontier. But weekends spent stumbling through seedy Alaskan bars and hitch-hiking to remote destinations gave me a unique perspective on life, and led me to find friendship, adventure, and love in the most unexpected places.
Memoirs is  available as an eBook in the following formats:
– Kindle
– Nook
– iTunes
– Smashwords
– Kobo
It is also available in paperback.
For an excerpt, head over to this blog post.
A Note on Kindle Books:
While a Kindle is a great way to read thousands of books, you do NOT need one to read this – or any – eBook. Amazon has made Kindle books available to almost every digital device – iPhone, iPad, Android, Blackberry, even just the browser on your PC or Mac. All you need is an app for your specific toy – check out this page for the full list of supported devices, or just go to the app store directly from your gadget. All the apps are free.